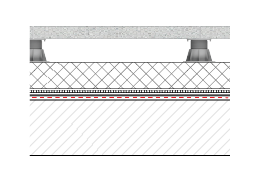 Elevated amenity decks create gathering spaces where parks and open space are at a premium. Consequently, amenity decks on rooftops simultaneously are amazing surfaces to manage stormwater. In conjunction with a premium waterproofing system, the void space under an elevated paver system can be used to manage stormwater.
Blu-Terrace is much more than a void for stormwater management. Through Blu-Terrace's all-in-one pedestal system, It provides design versatility for any amenity deck application.
The system offers a variety of elevated surfaces with concrete, wood, porcelain pavers/tiles and synthetic turf options. We can provide most shapes, sizes, colors and finishes. Single finish selections are common. However, our systems provide the easy integration of multiple finishes to enhance the design of your amenity deck. Blu-Terrace is truly where form meets multiple functions. Utilize Blu-Terrace to manage stormwater or be a standalone ornamental elevated amenity deck system.
Blu-Terrace is designed to integrate with all other Sustainablu's system offerings.
Combine with Blu-Smart to enhance stormwater management capability, Blu-Vault for vegetated roofs and Blu-Solar for solar-vegetated roofs.
Blu-Terrace Roof Products